We are not just a regular jewelry store in Boston area - we create custom jewelry for you!
There's nothing quite like it...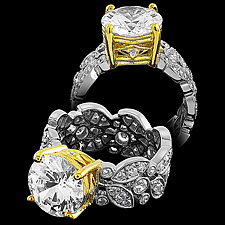 There are many important occasions in our lives that are memorialized in sparkles and shine with an extraordinary piece of beautiful gold and diamond jewelry: spectacular moments that remain in our memories for the rest of our lives, and remain close to our hearts when we are wearing that significant piece of fine jewelry.
Diamond rings mean a lot to couples thinking of taking that big step in life. Engagement rings, and then wedding rings are symbols of momentous steps leading to marriage and family. You don't want to trust just any jewelry store in Massachusetts with something so important. Gold is a custom jeweler that will craft for you spectacular hand-made jewelry, with personalized ring designs that are inspired by your own personality and preferences.
At Gold Fine Jewelers in Boston, MA, you'll find some of the most talented goldsmiths and jewelry designers. These gifted artisans offer their services in the design and craftsmanship of unique rings that will delight you for a lifetime. Their incredibly beautiful ladies' rings and men's rings are individual works of art, and you can have your wedding bands further personalized with custom jewelry engraving. And to keep your custom designed jewelry in its finest condition, bring it back regularly to any Gold jewelry store in Boston, Mass area for professional jewelry cleaning.
At Gold, we believe there's nothing quite like the feeling of receiving a gift of designer jewelry-something so special it's unlike anything you've seen before.
Whether it's the perfect engagement ring or an exquisite piece of designer jewelry, sparkling diamonds or a collector's watch, receiving it is one of those perfect moments when memories are made.
Jewelry Store
Fine Jewelry
Engagement Rings
Wedding Rings

Hand-made Jewelry
Custom Jewelry

Estate Jewelry
Wholesale Diamonds
Buy Jewelry
Sell Jewelry

Gold Refinery
Jewelry Cleaning
Quick Fix Jewelry